WHO WE ARE
The PacificSport Centres are a network of not-for-profit organizations committed to enriching lives and energizing communities via sport, physical activity and physical literacy across BC. A legacy of the 1993 Canada Summer Games hosted in Kamloops, PacificSport Interior BC is a regional sport hub created to lead athlete, coach, and community sport services as far north as 100 Mile House; northeast to Sun Peaks, Barriere and Clearwater; east to Golden, Revelstoke, Salmon Arm and Sicamous, and southwest to Lytton. In partnership with the viaSport Regional Alliance, PacificSport Interior BC aims to increase awareness, opportunity and participation in physical activity and sport – from playground to podium – while enhancing access to coaching and athlete programs.
VISION
Healthy communities inspired and enabled to play, participate and perform.
MISSION
Through investment and collaboration with community partners, the regional centres serve as resource hubs that educate, inspire and engage British Columbians to excel and be active for life.
OUR SERVICES
PacificSport Interior offers a variety of programs and services to support sport initiatives at all stages of the Canadian Sport for Life (CS4L) continuum in our region.
| | | | |
| --- | --- | --- | --- |
| SPORT PARTICIPATION | SPORT PERFORMANCE | EDUCATION | RESOURCES |
| Grassroots programs and events that support physical literacy, fundamental movement skills, and introduce youth and adults to the skills and opportunity to live an active, healthy lifestyle. | High performance programs that provide athletes and coaches access to training facilities, innovative sport science techniques, equipment, and support services to further their overall athletic development. | Opportunities for sport education at all levels of the CS4L pathway including interactive seminars, workshops and conferences for athletes, coaches and community members. | Expertise, coaching, grants, and more to support your pathway through the Canadian Sport for Life Model in British Columbia. |
STRATEGIC PLAN 2021 – 2025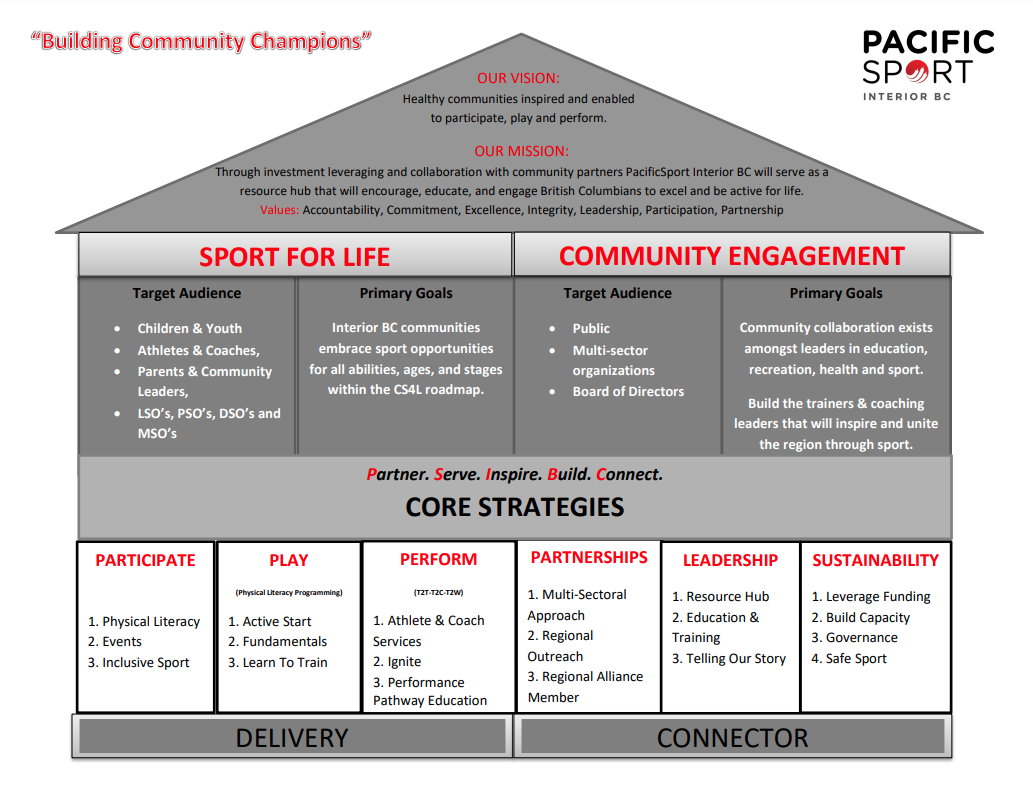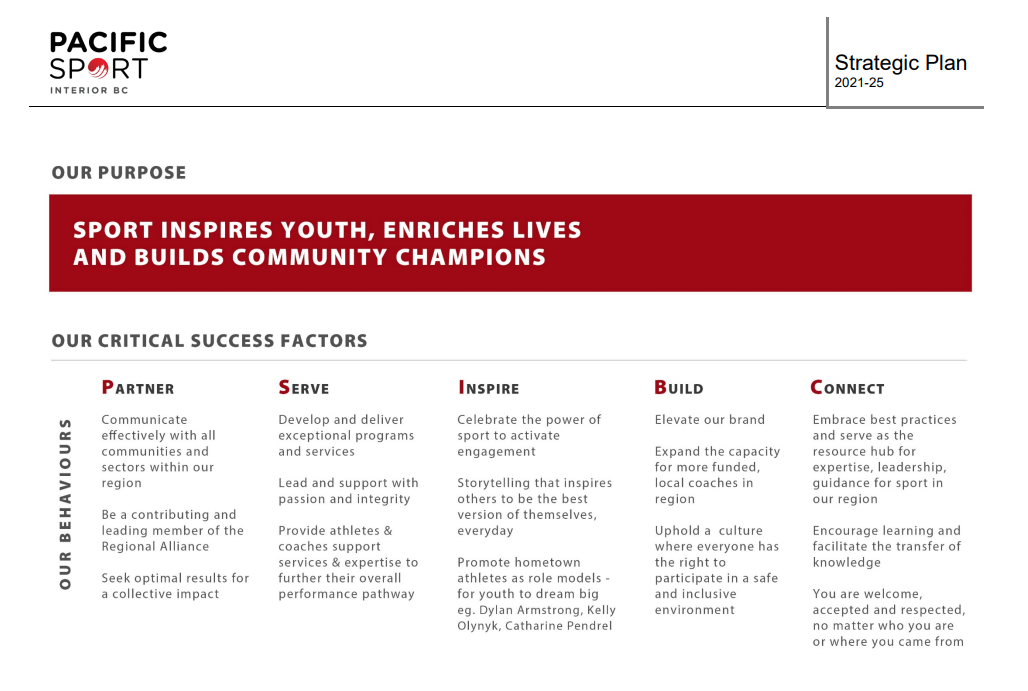 Regional Alliance Partners
The viaSport Regional Alliance partnership is a collective of provincial sport-delivery organizations passionate about enriching lives and energizing communities via sport.
Each PacificSport Centre or Regional Alliance partner organization delivers exceptional programming ensuring all British Columbians receive quality options to lead healthy and active lifestyles.
On each website, you may find:
Multi-sport camps for children and youth
Leadership development courses
Athlete development and training opportunities
Community physical activity programs for all abilities
Certified coach and official training clinics
Physical activity and sport resources for all sport leaders and educators
Special events in your community