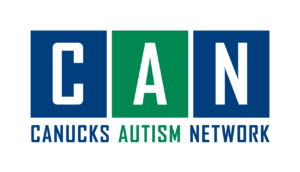 PacificSport Interior BC is proud to partner with the Canucks Autism Network (CAN) and the City of Kamloops to offer mulit-week gym programs for kids with autism ages 3-16 and their siblings. CAN provides year-round, high-quality sports, recreational, arts, and social programs for individuals and families living with autism, while spreading awareness and providing training in communities across British Columbia.
I CAN Be Active
The purpose of the I CAN Be Active program is to teach children with autism, and their siblings, fundamental movement skills in a safe and supportive environment. Learning fundamental movement skills such as running, jumping and balancing helps children build the confidence necessary for a lifetime of sport and physical activity. This program is designed to give children the opportunity to be active and work on their physical literacy through games.
I CAN Play Sports
The purpose of the I CAN Play Sports program is to provide children with autism, and their siblings, a fun introduction to the world of sports! Participants will enjoy games and drills that work on fundamental movement skills, specifically those used in the sports of soccer and basketball. This program is designed to provide a fun, safe and supportive environment for all those taking part
Individuals must have a CAN membership to register.  For more information, or learn how to become a CAN member, please visit: www.canucksautism.ca/join/today.htm
Job Opportunities – Canucks Autism Network is hiring!! They are in need of a few more Support Workers for the upcoming winter schedule.
Partnership Programs
Active Sport Program (3-5 yrs old)
April 22 – June 3
10:15 – 11:00
11:00 – 11:45
Beattie Elementary School
Register here
Multisport Program (7-12 yrs old)
April 22 – June 3
Sat 11:45 – 12:45
Beattie Elementary School
Register here
Active Sport Program (3-6 yrs old)
May 1 – June 12
5:15 – 6:00
Beattie Elementary School
Register here
Multisport Program (7-12 yrs old)
May 1 – June 12
6:00 – 7:00
Beattie Elementary School
Register here