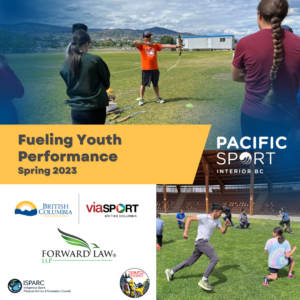 Fueling Youth Performance – Fall 2023
The program is open to athletes ages 13-20 and is designed to help the athletes take their performance to the next level and support them on the proper pathway to develop athletically and enhance their skills to reach their goals in sport. The program focuses on improving performance, injury prevention and creating a 'whole' athlete through team building and other educational opportunities all while incorporating Indigenous leadership and cultural practices into the program.
Click here for the schedule.
Program Info – Fall 2023

8-week program beginning mid October
sessions include strength and conditioning, sprint training, archery, FitNation, team building and more!
Sk'elep School of Excellence Gymnasium (Sprint sessions at the Tournament Capital Centre)
Cost: Free – limited spots available, register ASAP!
Register: to register email or call Erin at epincott@pacificsport.com or 250-828-3583